The Consumer Electronics Show in Las Vegas, Nevada this year had a lot of great gadgets and fun innovations. This included some innovative new electronic health devices, some of which may change the game for the better.
It seems that every company building devices wants to get into the personal health monitor game. This is good for those who like electronic and personal health records because the more of these devices that come to market, the lower their costs and more likely their adoption. There were devices ranging from wearable weight loss monitors, fitness and workout gadgets, and more. These were contrasted by more serious units for diagnostic and treatment.
By Kevin Hauser Submitted on January 30th, 2012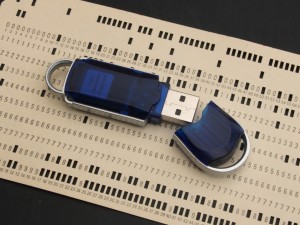 Before electronic health record (EHR) and personal health records (PHR) technology becomes mainstream and widely used, those who are utilizing it will need to change their security habits. A nation-wide push is going on to propel our healthcare system into the 21st century and (finally) go electronic with our health records. With that push, however, comes stories of stolen laptops, missing printouts, trashed hard drives still containing data, and more, all potentially putting patients by the tens of thousands at risk of having their records fall into the wrong hands.
Nearly every one of these compromises is not due to sophisticated hacking or electronic breaching techniques. They're almost all because of stupid mistakes made by people who should either know better or have been taught better.
By Kevin Hauser Submitted on January 23rd, 2012
As health care costs and issues become bigger and bigger, many innovative companies and providers are changing how they do business, by literally turning the healthcare paradigm in our country on its head. Individual doctors, patients, and employers are seeking new ways of providing affordable care at reduced cost and with better results.
The current healthcare paradigm actually encourages more sickness. Not because of any lapse in procedure or questionable new treatments, but because the way health care is paid for is literally in a way that encourages more health issues. Basically, the more often you visit your doctor or provider, the more often they get paid, either by you or, most often, by insurance. So doctors have incentive to schedule multiple appointments, looks for reasons to test for illnesses, etc.
By Kevin Hauser Submitted on January 16th, 2012
As the economy continues to be slow and those dependent on Medicaid or without insurance altogether are feeling the pinch, one of the medical issues becoming more prevalent is dental problems. People who can't afford or don't have coverage for dental work are often ignoring it and letting little problems grow larger. The result? They flood emergency rooms and drive up costs.
A study in Florida looked at this trend and found that more than 115,000 people went to the hospital in 2010 for dental care that could have been prevented or done at lower costs in a dentist's office. The Florida Oral Health Coalition, which did the study, says that's up 9% from 2008.
By Kevin Hauser Submitted on January 9th, 2012