Your career paths for the medical profession used to be pretty limited: doctor, nurse, and hospital gift shop cashier. Now there are more "ologists" and other esteemed medical professions than there are cells in the human body. With federal funds being pumped into the healthcare access and infrastructure via the recent healthcare legislation passage, the number of new gigs will only increase. So polish your resume, pick up some scrubs and study "Gray's Anatomy" (The medical text, not the show).
First Responder Physicians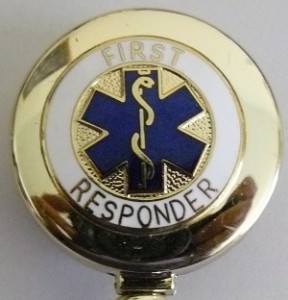 When the bucket brigade slides down the pull, slaps on their helmets and peels out of the garage, they know it's more likely they're responding to a bad asthma attack, and not a three-alarm blaze. The same is true of Johnny Law, who needs to keep a First Aid Kit beside his Taser X26. Of 85,000 911 calls made in the Mile-High City in 2009, no one was brought to the hospital a third of the time, according to a Denver Post report. The problem runs rampant from coast to coast, as those with routine ailments ranging from sprained ankles to bloody noses call 911 because they feel they have nowhere else to turn. No doctor, no insurance, just a phone.
IT Guys
Already, medical practices are racing to hit technology milestones that allow them to dip into the federal honeypot of funding. All healthcare providers have until 2014 to convert to Medical Records, and the glorified librarian guardians of these vast paper hallways are going to have to be replaced by IT dudes sooner than later. With plans for an Office of the National Coordinator for Health Information Technology, a national database for medical devices, mobile diagnostic technology monitoring and countless other initiatives, practice managers better start scouring Second Life forums and "Sailor Moon" message boards for able-minded geeks.
Pharma Manufacturers
Sure, it may not be as sexy as wheeling, dealing and delivering Applebee's Riblets to sweet nurses as a pharma rep. And it may not hold the prestige of donning an lab coat, goggles and designing the next big male potency drug by cracking a chalkboard formula like good Will Hunting. But working as a pharmaceutical manufacturer is an important gig. They're the ones who ensure that the drugs pass trials and FDA guidelines. While there were just shy of 300,000 working the job in 2006, that number is predicted to top 360,000 by 2016.
Home Health Aides
In Colonial America, the average life expectancy was under 25 years old. You couldn't even live long enough to legally rent a horse. Now it's 78 years old. For those who lived a hard first 70 years as well as those who cruise through their 90s hoping they outlive Willard Scott, sometimes you need a helping hand. These days you can still enjoy the comforts of homes even when you can't open the peanut butter jar. And home health aides are there riding shotgun with seniors to make sure they still achieve the highest possible quality of life. The industry is experiencing a steady 5 percent growth, meaning there are about 35,000 new openings per year. The pay isn't great – usually about $20,000 when the hourly wage is tallied up – but you can land the job without a college education.
Medical Receptionists
Who's going to tame the waiting rooms and corral the long lines? The Bureau of Labor Statistics predicts that the support role will increase more than 20 percent in coming years. If you're nice to them, they'll show you where this year's magazines are hidden.
Physician Assistants
As the current doctor shortage widens, patients will be spending a lot more time with physician assistants. Don't be fooled by the term "assistant," as these skilled professionals will be doing much more than swapping out bedpans and tossing out dead flowers. The average salary reflects that skill level – more than $80K – and you'll need a master's degree equivalent. There are about 4,000 openings per year in the field now, a number that will skyrocket once the nation's uninsured are provided for in the coming years.
Celebrity Doctors
If priests can get away with it, then why not doctors? Dr. Oz, the cast of "The Doctors" and even that dude with the bad hair plugs from "Miami Slice" – these are just a few of the famous docs who've successfully moved from the emergency room to the green room. Sure, medicine isn't once size fits all and diagnosis via boob tube may be more dangerous than open heart surgery with Dr. Phil. But as long as the nation is fooled and the trend continues, expect tele-medicine to grow.
Nutritionists
Prevention is more than a buzzword; it's now one of the cornerstones of Obama Care. And with an increased emphasis on proactive healthy living steered by diet and exercise, schools, hospitals and other institutions will be hiring nutritionists and dieticians to make sure our lunchtime BLT stands for, "Broccoli, Lettuce, Tomato." While nutritionists only make about $45K, you can't put a price on rock-hard abs and the ability to impress your family with a hummus turkey for Thanksgiving dinner.
Optometrists
The longer people live, the more they stare at computers and the tiny scrolling exclamation marks on "Nancy Grace," the more likely they are to be called "four eyes" before they can spell it. Optometrists make six figures and will look for roughly 36,000 to join their ranks by 2016. (Don't discount the colored contact lens business that "Twilight" has brought.)
Drivers
So, you're a 72-year-old well-heeled millionaire who sees about a dozen specialists a week. You're not driving yourself around. You've got a limo driver. And the middle-class version of yourself is likely taking a taxi cab or medical transport van. Talk to any cabbie worth his pine-scented air freshener, and he'll let you know the morning and afternoon business is all about patient transport, especially older folks who no longer have licenses. Simply hang out by the decaf pot in the nursing room lobby, and you'll be able to find some business. But you better accept checks.
By medefile Submitted on February 5th, 2011
Leave a Reply
You must be logged in to post a comment.